Visure Requirements ALM 6
Visure Authoring
Visure Requirements ALM Platform incorporates a brand new application for users who only need to create items, establish traceability and collaborate with other users by reviewing specifications and requirements. The Visure Authoring application is a native web client that provides a very simple and easy to use interface. Please refer to the Visure Authoring Release Notes for further information.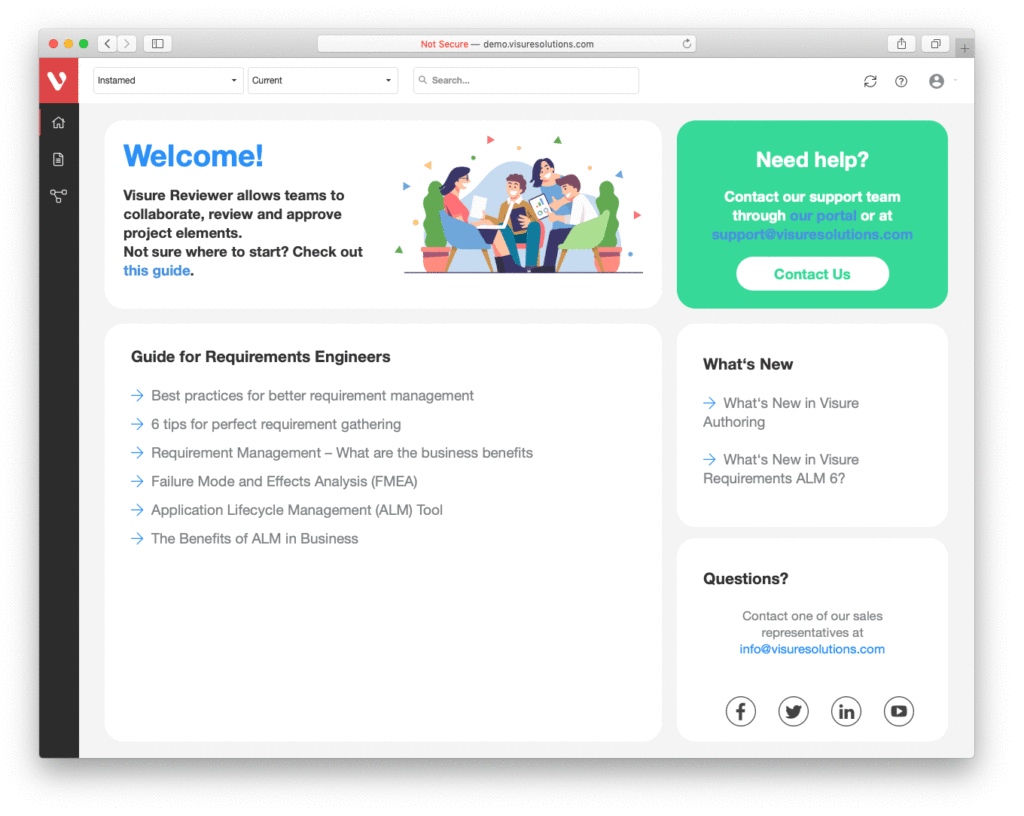 Visure Reviewer
Visure Reviewer has been improved to take advantage of all the new usability and review features included in Visure Requirements ALM 6 platform.
3-tier architecture
The entire Visure Requirements ALM Platform has been redesigned to provide a state of the art infrastructure that features a 3-tier architecture.
This new architecture uses gRPC protocol as the basis for the communication between the Visure Requiremens ALM client and server, providing a faster, more reliable, scalable and secure connection.
Traceability Matrix
Traceability matrices are a fundamental tool in the Requirements Engineering process. Visure Requirements ALM 6 provides a native support to these artifacts by allowing users to a view that will display end-to-end traceability, configure in a quick and simple way. For the user's convenience, these matrices can be exported to MS Excel.
MS Excel Import Plugin
The Visure MS Office plugins are an extremely efficient way of importing requirements and traceability in the Visure Requirements ALM platform. In addition to the existing MS Word plugin, Visure Requirements ALM 6 incorporates a new MS Excel plugin capable of importing complex tables of requirements with attributes and traceability directly from the MS Office UI.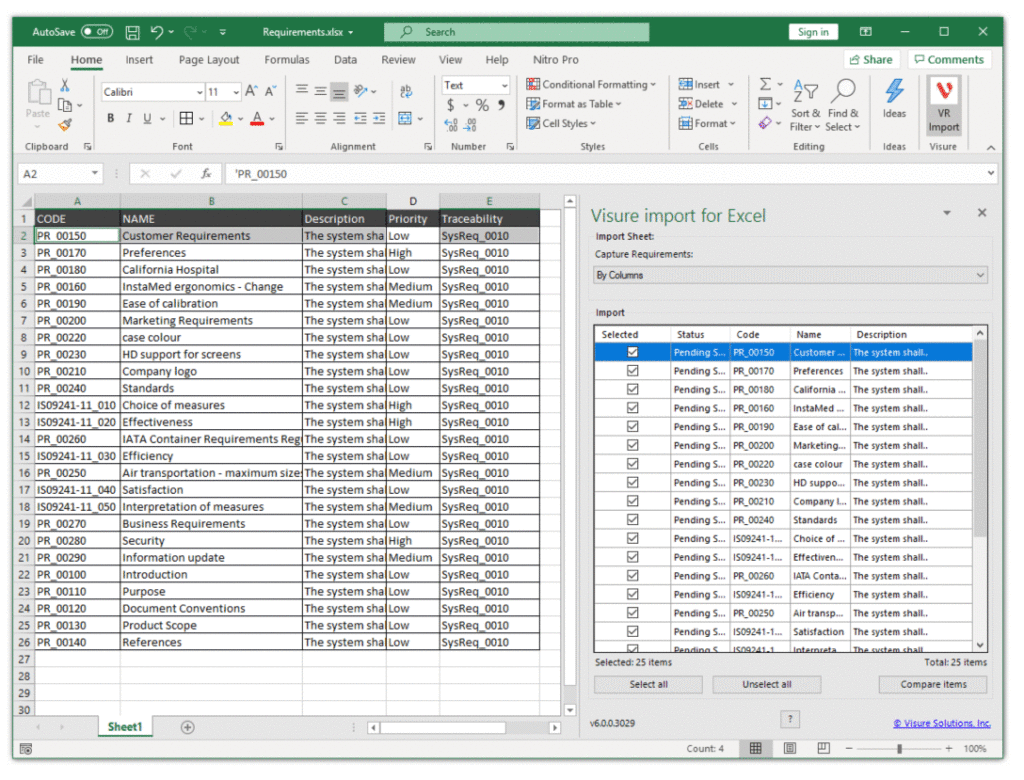 Specification Baselines
Any user may now create a baseline of their own specifications without the need of being a project administrator and in one single step. This specification baseline will automatically include all checked in items as well as all the necessary attributes and types.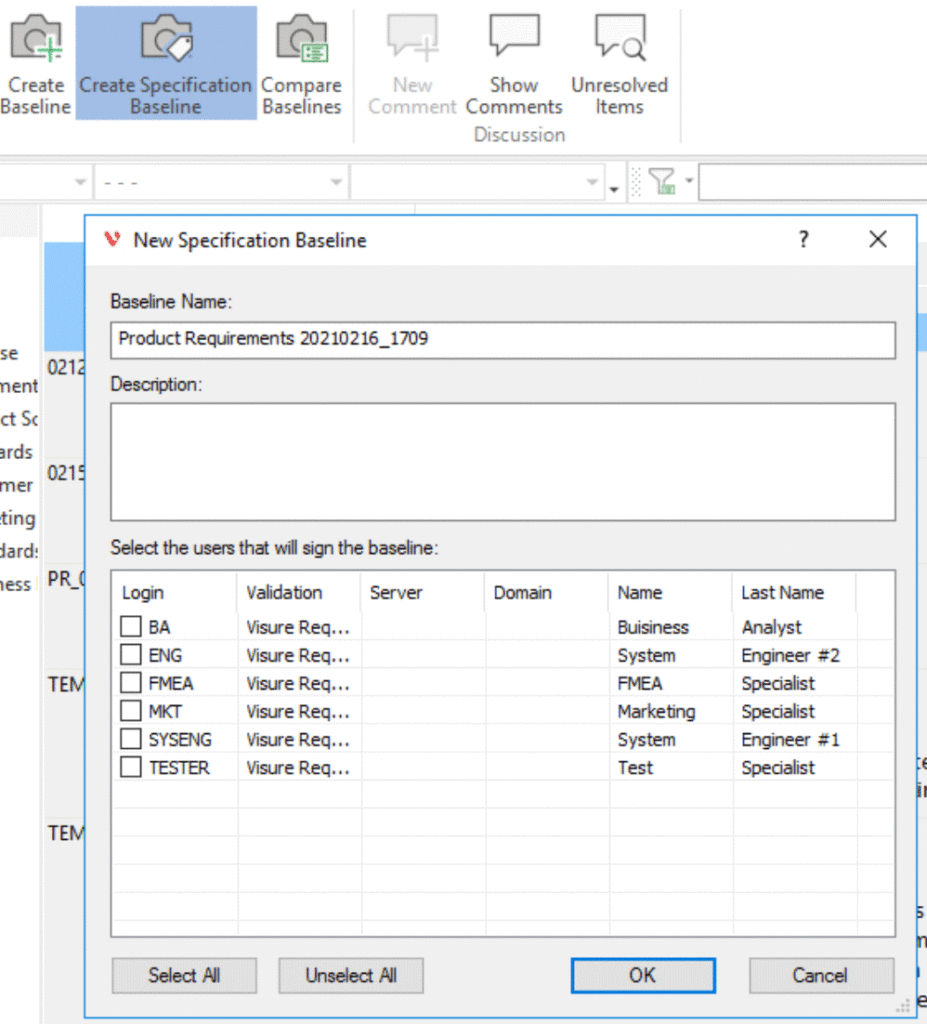 Views
Project administrators can now create generic views that they can share with the rest of the users of the project such as other project managers, engineers or testers. These users will then be able to apply these generic views to their own specifications, allowing them to display the information following pre-defined templates.
Filters
In order to provide a more collaborative environment, Visure Requirements ALM 6 provides new filters including code filters and comments filters. By using these new filters, Project Managers and other user groups can create views displaying the elements from a specification or a group of specifications that contain unresolved comments, and can save them in a view that can then be shared with other users of the project.
Usability improvement
Login: Visure Requirements ALM 6 provides a streamlined login process
Ribbon: The Visure Requirements ALM 6 ribbon reduces the complexity of the UI by including the insert options directly in the Edit tab.
Double click: The specifications view provides several new capabilities targeted towards providing users with a better user experience. Users may open the specifications by double clicking on them either from the navigation panel or the grid. This option is also available from the context menu as Open Specification and Open Specification in a New View.
Context menu: The navigation panel provides a new context menu with all the management options, so that users can manage items directly from the navigation panel, including features like check-in, check-out and edit properties, among others.
Improved UI: The UI has been updated to provide user with a more comfortable working environment.