Visure Requirements ALM. Requirements Traceability Matrix
Visure is a leading provider of requirements management and ALM tools offering a comprehensive collaborative ALM platform including full traceability between the different phases of the lifecycle. Visure automates the generation of the Requirements Traceability Matrix as well as other reports and dashboards such as Requirements Coverage Analysis and Requirements Glossary, helping end-users save time and prevent errors.
Start your free trial now!
Requirements ALM Platform
Visure Requirements provides unique features for Requirements Management, Test Management, Defect and Issue Tracking, Change Management and Risk Management, all in one, single platform.
Providing configuration management, version tracking and baselining for all the artifacts, Visure Requirements becomes one of the most comprehensive solutions in the market.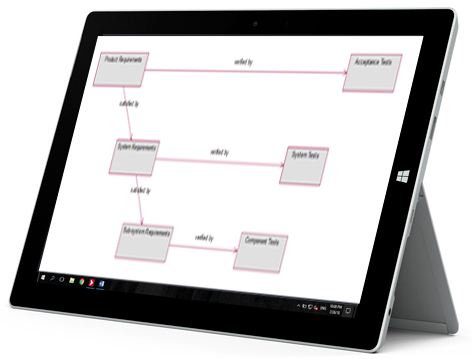 End-to-end traceability
Data Models in Visure Requirements graphically represent all the artifacts in the lifecycle and the required flowdown of information in the lifecycle. These diagrams represent the allowed traceability between requirements, test, risks, defects, tasks and any other required element in the project, enabling traceability end-to-end and guaranteeing the consistency of the links.
Change Impact Analysis, Coverage Analysis and Traceability Matrix are automatically generated out of these diagrams.
Requirements Traceability Matrix
Visure Requirements provides unique features to automatically generate a Requirements Traceability Matrix displaying traceability between different levels of requirements such as product, system, component requirements and design, as well as risks and tests.
This matrix can be then exported to multiple formats including PDF, MS Excel, and MS Word to be able to deliver them to customers or the corresponding authorities.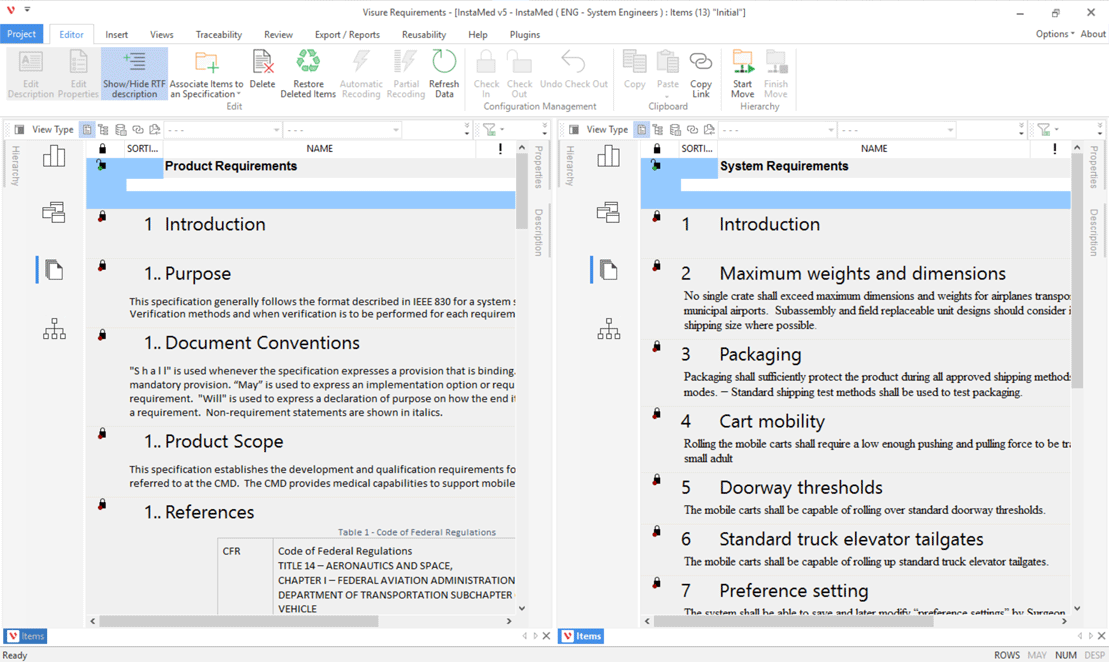 Drag and drop traceability
Visure Requirements allows displaying specifications side-by-by in a very convenient way that provides engineers a broader perspective of the requirements, as well as allowing them to establish traceability simply by drag and dropping elements from one document to the other. The Data Model that define the allowed relationships will prevent establishing inconsistent links as well as creating the links with the appropriate type and direction.
Impact Analysis
Visure Requirements provides the perfect environment to keep track of changes. The Impact Analysis view displays, in an interactive manner, all the elements directly and indirectly affected by a change. Users will be able to navigate, query and even edit items directly from this view.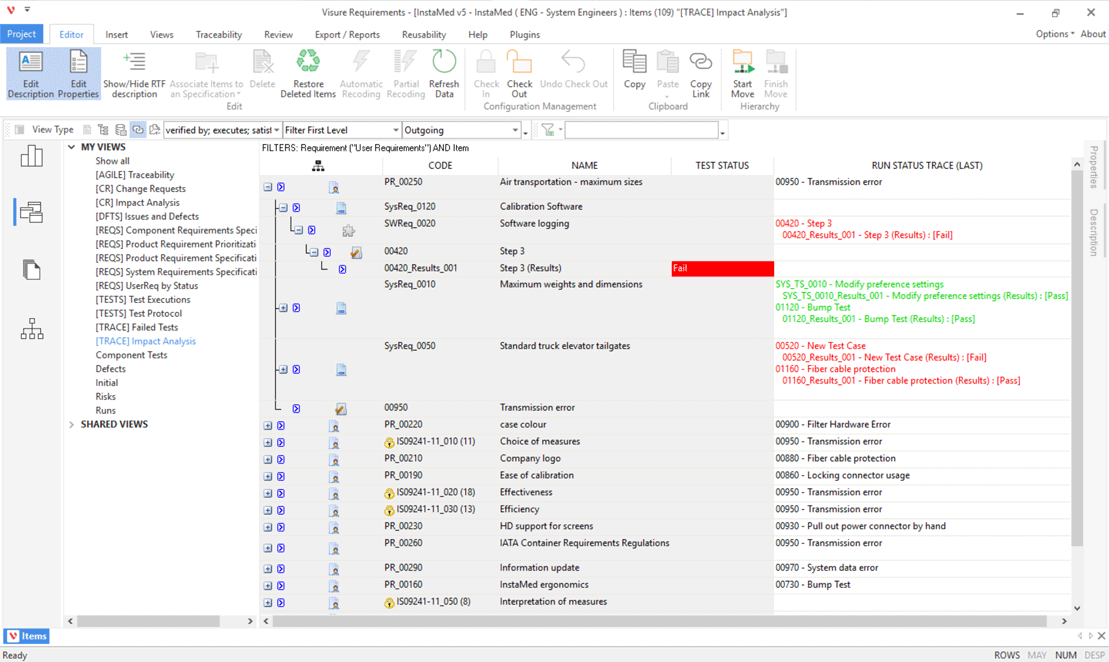 Suspect Links
The suspect links capability triggers a red flag on any element in the project affected by a change, notifying users of the need of assessing the impact of a change.  Users will then have to either clear the suspect links if there is no impact or they will have to modify the element accordingly, triggering more suspect links in the project. This capability enables a 360-degree impact assessment.
Change Management
Visure Requirements enables teams to effectively manage Change Requests by defining the approval process and involving Change Request Boards. This helps clearly define a decision process, in order to prepare for and appropriately deal with changes throughout the lifecycle. Changes will be traced to the elements they affect, showing a change impact analysis that will result in accurate estimations.

Live integrations
Visure Requirements provides live integrations that enable the synchronization of items bidirectionally with tools such as JIRA, Enterprise Architect, HP ALM, VectorCast, OneTestEmbedded, DOORS and many other.
Templates for Standards Compliance
Visure Requirements' out-of-the-box project templates for standard compliance help customers configure a new project compliant with the following standard in less than 2 minutes:
Aerospace and defense: DO-178B/C and DO-254
Automotive: ISO 26262 and Automotive SPICE
Medical devices: IEC 62304 and FMEA
Railway: CENELEC EN 50128 and FMEA
Agile: SCRUM
Systems engineering (CMMI, SPICE, EN 61508)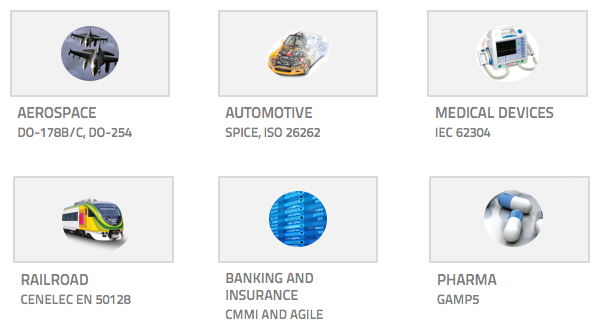 Trusted by some of the best companies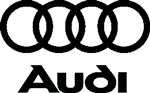 Visure Solutions named Gold Medalist in ALM space
Software Reviews, a division of world-class research and advisory firm Info-Tech Research Group Inc., published its Application Lifecycle Management Data Quadrant Awards naming Visure Solutions Gold Medalist in the space.