Visure Requirements ALM. All-in-one Platform
Visure is a leading provider of requirements management and ALM tools offering a comprehensive collaborative ALM platform for distributed stakeholders including full traceability (all the way down to the source code – support of many programming languages such as C, C++ and JAVA) and tight integration with MS Word/Excel and other tools such as DOORS, JIRA, Enterprise Architect, TFS, VectorCast, MicroFocus ALM, ReqIF and Rational TestRT.
Start your free trial now!
Requirements ALM Platform
Visure Requirements provides unique features for Requirements Management, Test Management, Defect and Issue Tracking, Change Management and Risk Management, all in one, single platform.
Providing configuration management, version tracking and baselining for all the artifacts, Visure Requirements becomes one of the most comprehensive solutions in the market.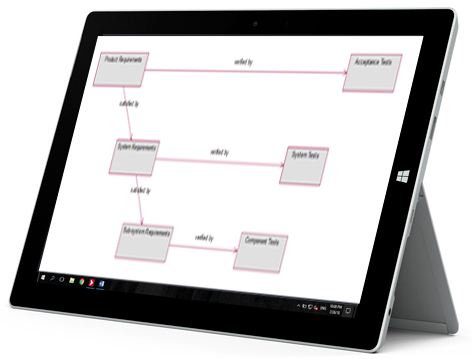 End-to-end traceability
Data Models in Visure Requirements graphically represent all the artifacts in the lifecycle and the required flowdown of information in the lifecycle. These diagrams represent the allowed traceability between requirements, test, risks, defects, tasks and any other required element in the project, enabling traceability end-to-end and guaranteeing the consistency of the links.
Change Impact Analysis, Coverage Analysis and Traceability Matrix are automatically generated out of these diagrams.
Requirements Management
Visure Requirements provides comprehensive features for Requirements Management, from easy to use Word and Excel -like and impact analysis views, to review and approval workflows.
Test Management
Visure Requirements links specific tests with the requirements they verify. It then manages the relationships, identifying which requirements have and have not been tested and pinpointing those tests that need to be re-run due to changes in the requirements. This automates the manual process, saving time, increasing software quality, and providing the transparency required to obtain certification.
Defect and Issue Tracking
Visure Requirements provides the perfect environment to keep track of the reporting defects and issues. These defects and issues can have their own life cycle, associating each transition to different users or groups. Project Managers will be able to track the progress in bug fixing as well as the performance of the team. Defects and issues are seamlessly traced to the tests they may derive from as well as the releases they have been fixed in.
Risk Management
Visure supports multiple techniques for Risk Management, including FMEA, SIL and ASIL. Users can define the way in which hazard analysis and risk assessment will be performed, by defining the corresponding matrix of attributes values, for instance, Severity, Occurrence, Detectability in the case of FMEA, and Severity, Probability of Exposure, Controllability in the case of ASIL, and the possible Risk Levels, for instance, Acceptable, Unacceptable, Optional for FMEA, and QM, A, B, C, D for ASIL.
Based on the defined criteria, Visure will automatically calculate the RPN and risk levels, and highlight those elements that require mitigation. These elements will then be traced to the corresponding requirements or safety goals within Visure that mitigate them in order to effectively demonstrate compliance to the standard.
Change Management
Visure Requirements enables teams to effectively manage Change Requests by defining the approval process and involving Change Request Boards. This helps clearly define a decision process, in order to prepare for and appropriately deal with changes throughout the lifecycle. Changes will be traced to the elements they affect, showing a change impact analysis that will result in accurate estimations.

Live integrations
Visure Requirements provides live integrations that enable the synchronization of items bidirectionally with tools such as JIRA, Enterprise Architect, HP ALM, OneTestEmbedded, DOORS and many other.
Reusability
Visure Requirements provides reusability support, to enable simple sharing of standards across projects, or complex product line and variant management. Either case, Visure Requirements allows the definition of a catalog of reusable components which may be reused to create or update variants. This is a critical capability that accelerates time to market and cuts development costs.
Templates for Standards Compliance
Visure Requirements' out-of-the-box project templates for standard compliance help customers configure a new project compliant with the following standard in less than 2 minutes:
Aerospace and defense: DO-178B/C and DO-254
Automotive: ISO 26262 and Automotive SPICE
Medical devices: IEC 62304 and FMEA
Railway: CENELEC EN 50128 and FMEA
Agile: SCRUM
Systems engineering (CMMI, SPICE, EN 61508)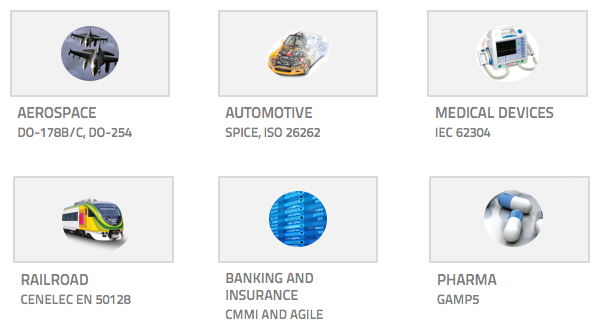 Trusted by some of the best companies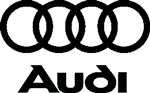 Visure Solutions named Gold Medalist in ALM space
Software Reviews, a division of world-class research and advisory firm Info-Tech Research Group Inc., published its Application Lifecycle Management Data Quadrant Awards naming Visure Solutions Gold Medalist in the space.