Visure Web App
MS Word Export
MS Word Import
ReqIF Support
Project Templates for standards compliance
Prefix for item codes
Improved document view
Improved RTF descriptions
Improved properties
Advanced traceability restriction
Over 35 other exciting improvements…
Read more, download our Release Notes (PDF) 
The Visure Web App, developed with JavaScript and HTML5, is a zero-install client that allows running Visure Requirements from popular web browsers on different platforms such as Windows, Mac, Linux and Chromebooks.
The Visure Web App is an add-on to Visure Requirements. Contact us for further information.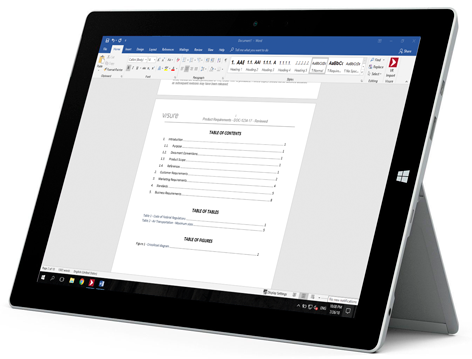 The improved export to MS Word generates ready-to-deliver MS Word specifications. Based on an MS Word template, the export identifies the document outline and includes the requirements, risks or tests with the corresponding format, traceability and attributes, and automatically generates the Table of Contents, Table of Tables and Table of Figures.
This MS Word plugin allows the import of existing specifications, standards and regulatory documents into Visure Requirements following an organized format.
The Visure MS Word Import Plugin automatically detects chapters, requirements and traceability in MS Word documents based on text patterns and styles, and converts them into items and real traceability in Visure Requirements.
The ReqIF adaptor for Visure Requirements 4.9 allows the exchange of specifications and requirement information with other Requirements Management tools. The ReqIF adapter has been specifically designed to support a seamless integration with IBM DOORS.
The ReqIF adaptor is an add-on to Visure Requirements. Contact us for further information.
Visure Requirements 4.9 incorporates out-of-the-box project templates based on Visure Solutions' expertise and decades of use of the tool in regulated environments. These templates provide an initial configuration of Visure Requirements, plugins and reports for the following processes and standards:
Aerospace and defense: DO-178B/C and DO-254 
Automotive: ISO 26262 and Automotive SPICE
Medical devices: IEC 62304 and FMEA
Railway: CENELEC EN 50128 and FMEA
Agile: SCRUM
Systems engineering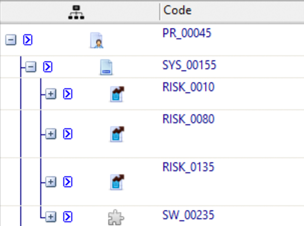 Visure Requirements allows the definition of a prefix for the item codes depending on the item collection (type) they belong to. Items are now easier to identify based on their codes.
The document view has been improved to provide a better user experience. Some of the improvements include
Sorting number: The sorting number now matches the numbering of a MS Word outline.
Heading number: A new heading number has been included to provide a numbering to certain type of items.
Context menu: The context menus in the document view provide new shortcuts to the panels and clearing sortings.
Smart Ctrl+A: The Ctrl + A only selects the items in the view and deselects the item collections.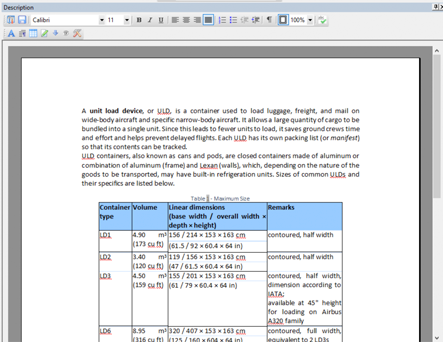 Writing descriptions for items has been improved to create a smoother user experience, similar to writing requirements in MS Word. These improvements include:
Captions for tables and images.
Spell Checker.
Open OLE objects in the description of "checked in" elements, without the need to "check out".
Center tables in the description.
Several tabs have been improved to help customers, including:
Details tab: Users can establish the sorting of attributes to manual or alphabetical.
Linked Items tab: This tab has been completely redesigned to improve user experience and performance.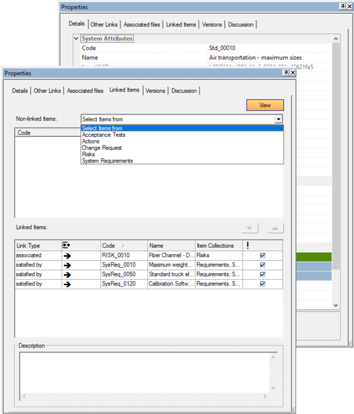 A new mode of traceability restriction has been added. This new mode allows defining different traceability rules for different item types within the same specification.