Visure Requirements Management
Visure Requirements Management provides a single source of truth for all requirements and traceability of a project.
Start your free trial now!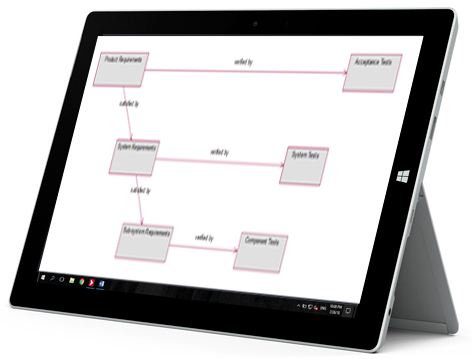 Process-Driven Requirements Management
Visure Requirements becomes the process backbone, managing all requirement-related information such as requirements, tests, change requests and risks, and the relationships between them.
It enforces the defined processes across the organization, formalizing a common requirements structure and managing changes throughout the lifecycle.
Easy to use
Visure Requirements user interface features the new Sapphire Interface. The enhanced interface includes a task-oriented user experience with a completely redefined look&feel that helps users achieve their tasks in an easy way.
Collaboration
Visure Requirements is meant to be a multiuser platform allowing users to work collaboratively, keeping traces and reports about every change with a complete versioning system, as well as providing review and approval workflows and discussion forums.
Users are able to define different views of the requirements that can then share to other members of the team, as well as define dashboards that can be shared across the organization.
MS Word and Excel Synchronization
We know how important it is to be able to deal with MS Word and MS Excel documents provided by customers, or even internal teams that are not yet fully on board with the Requirements tool of choice. That's why we provide a round-trip between Visure Requirements and MS Office so that users can synchronize their MS Office documents with Visure Requirements, flagging each time all the elements that have been modified in the document, and synchronizing these changes back into Visure Requirements.
Reusability
Visure Requirements provides reusability support, to enable simple sharing of standards across projects, or complex product line and variant management. Either case, Visure Requirements allows the definition of a catalog of reusable components which may be reused to create or update variants. This is a critical capability that accelerates time to market and cuts development costs.
Templates for Standards Compliance
Visure Requirements' out-of-the-box project templates for standard compliance help customers configure a new project compliant with the following standard in less than 2 minutes:
Aerospace and defense: DO-178B/C and DO-254
Automotive: ISO 26262 and Automotive SPICE
Medical devices: IEC 62304 and FMEA
Railway: CENELEC EN 50128 and FMEA
Agile: SCRUM
Systems engineering (CMMI, SPICE, EN 61508)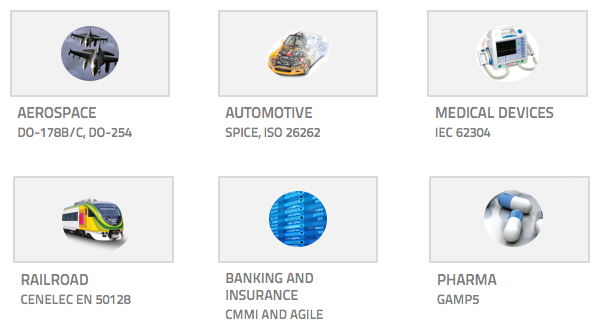 Live integrations
Visure Requirements provides live integrations that enable the synchronization of items bidirectionally with tools such as JIRA, Enterprise Architect, HP ALM, and many other.
Trusted by some of the best companies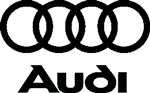 Visure Solutions named Gold Medalist in ALM space
Software Reviews, a division of world-class research and advisory firm Info-Tech Research Group Inc., published its Application Lifecycle Management Data Quadrant Awards naming Visure Solutions Gold Medalist in the space.