#1 REQUIREMENTS MANAGEMENT & ALM SOFTWARE
Ensure Compliance.
Enforce End-to-End Traceability.
Accelerate Your Timelines.
Unlock efficiency with leading AI-powered ALM software designed to improve speed and quality while lowering risk and cost.
1,000+ Highly Regulated Organizations Trust Visure




How A Modern Requirements Management Tool Enables Engineering Teams Achieve Project Success
Requirements Management
Manage Requirements history and versioning at element and document level. Element tracking, change management, impact analysis and prioritization.
Risk Management
Mitigate Risk and avoid stressful compliance audits across projects by centralizing and tracing in a single source of platform.
Test Management
Gain access to a test management dashboard and simplify your test management process by reusing validated and verified requirements across projects.
Requirements Report Generation
Generate customized documents and reports from your database, helping deliver the necessary regulatory compliance evidence, specifications, test session summaries, or any other required output.
Reusability & Traceability Between Projects
Enable your team to optimize resources, time and money by reusing components from any item within Visure, including requirements & standard compliances across multiple projects.
Maintain Security Across Development
We know security is a must for complex and heavy regulated industries. With our On-Premise Licensing option, you can easily deploy and maintain security across all your projects within the tool.
Change Management Process
Empower your team to make better decisiones by enabling them to access both real-time data from the impact of modifications across projects and documented versions saved.
Requirements Review & Commenting
Empower every experience level user within your team by enabling them to create any topic discussion and collaborate in realtime discussions before applying any changes.
Create Baseline
Align your team by creating Baseline at any point in time, automating your Baseline Signature Process directly within the tool and exporting baseline in any format, such as PDF, MS Office, etc.
Requirements Gathering
Visure supports an automatic capture of elements from MS Word, MS Excel, ReqIF and other sources, in an intuitive way that allows automatic importing and round-trip.
End to End Traceability
Gain end-to-end traceability, and generate Traceability Matrices and Impact Analysis from requirements to tests, defects, risks, users stories and source code in one place.
MS Office Import & Export
Increase your productivity and ease your Stakeholder review process by using simple import and export data features for ReqIF, and MS Office Word & Excel.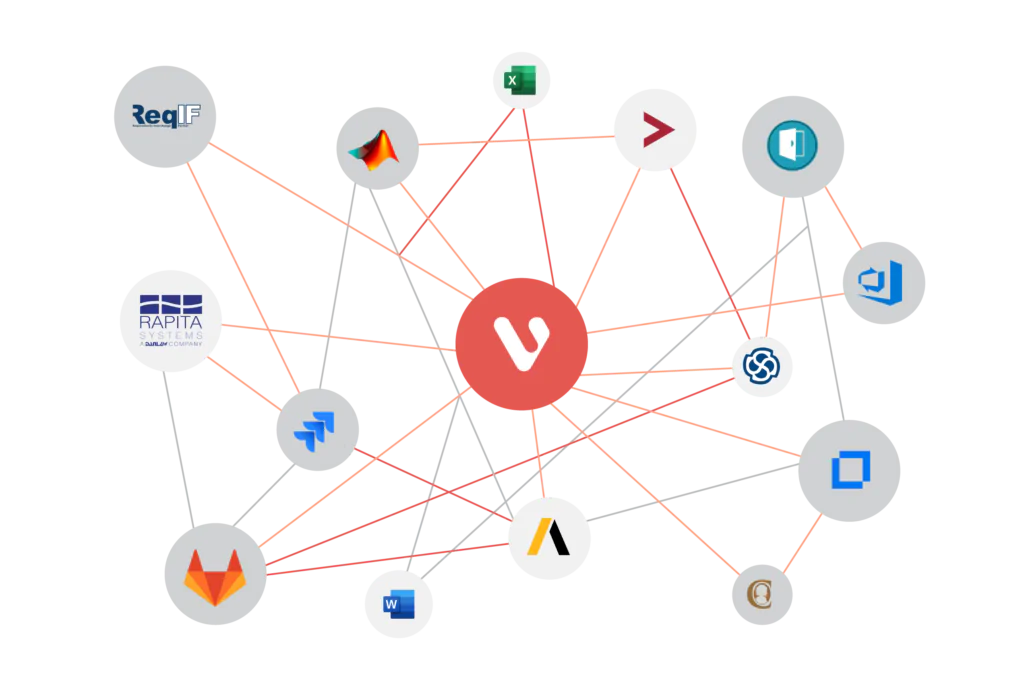 A Requirements Management Solution that Integrates Seamlessly Between Your Engineering Tools
Leverage the power of Visure to continuously customize and sync traceable information between the best engineering tools, including MS Word and Excel.
Ensure Compliance.
Enforce End-to-End Traceability.
Accelerate Your Timelines.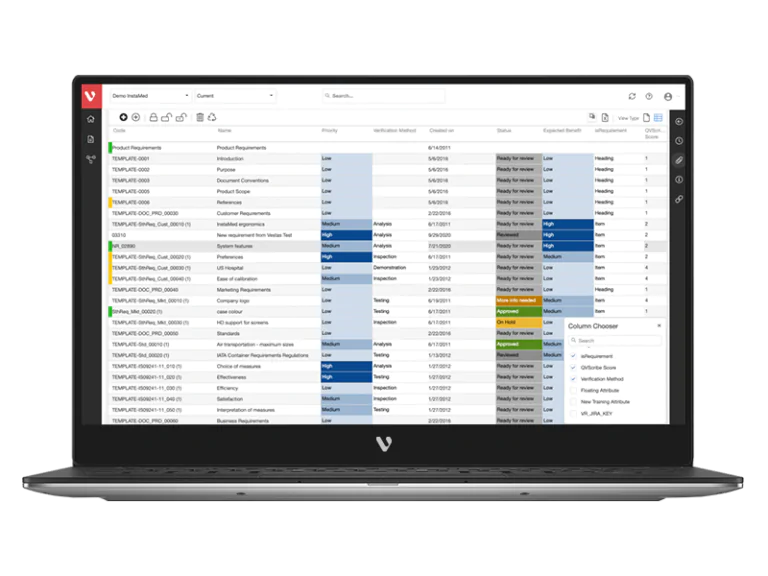 A Requirements Management Tool Customized for Every Industry Need
Eliminate manual tracing & compliance, while reducing product delays, rework, and cost overruns with our modern requirements management and alm solution which includes industry aligned frameworks and templates.
Aerospace & Defense
Includes support for: ARP 4754 / DO-178B/C / DO-254 / MIL-SPEC / DoD Airworthiness
Automotive
Includes support for: ISO 26262 / ISO/SAE 21434 / SAE J3061 / ASPICE  / ISO/PAS 21448 / IEC /  IEC 60812 / FMEA  / ASIL
Railways
Includes support for: CENELEC EN 50128 / EN 50129, ISO / IEC/ IEEE 29148 / IEEE 15288 IEEE 12207 / IEC 61508
Medical Devices & Pharma
Includes support for: ISO 14971 / IEC 62304 / FMEA / DFMEA / FMECA / FDA / 21 CFR Part 11 / GAMP 5
Energy & Utilities
Includes support for: IEEE 1547 / Renewable Energy Technologies / / NERC Critical Infrastructure Protection (CIP) / FMEA
Banking & Finance
Includes support for: CMMI / ISO / IEC 15504 / Agile
What industry professionals say about us
Michael D.
System Engineer- Aerospace Industry
"Visure tools helped identify deficiencies in our traceability from using traditional spreadsheets for a mission critical customer."
Reza Madjidi
CEO- ConsuNova
"The quicker the developer can demonstrate the proof of the completed reviews, the more credibility they show to the certification authorities such as FAA and EASA."
David Warwick
Software Group Lead
"Visure Requirements ALM removes the administrative overhead of keeping multiple Word/Excel documents up to date, while maintaining a flexible approach which fits with our existing ISO processes."
Elena Perez Rodriguez
System Engineer, Lidax Edit Top
"Visure Requirements ALM Platform really simplified the project traceability and impact analysis process, that used to be very time consuming before Visure"
As posted in G2, SoftwareReviews and TrustRadius.
Ensure Compliance.
Enforce End-to-End Traceability.
Accelerate Your Timelines.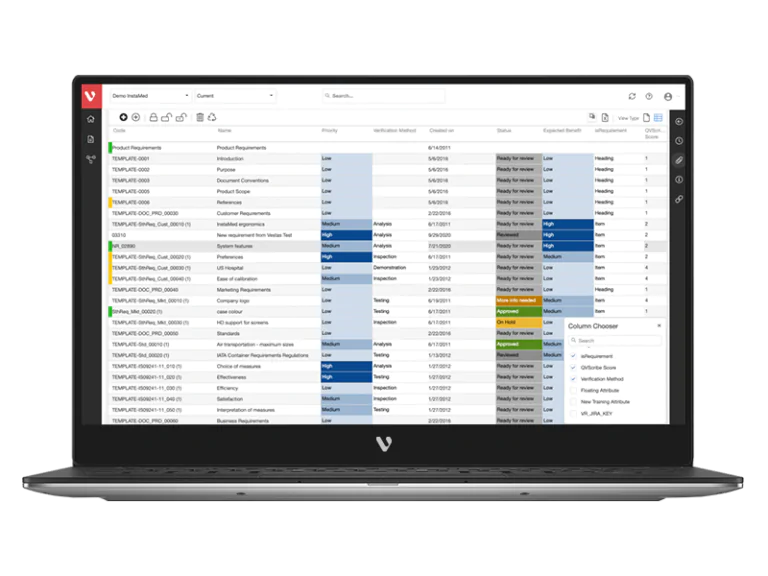 Accelerate Standard Compliance & Enforce Traceability with the #1 Rated All-in-One ALM Software