Welcome to Visure Authoring
Create and manage project elements
The New Onyx User Interface
Visure Authoring 6 features the new Onyx User interface, a state-of-the-art interface for easy collaboration. Users can easily access all the project documents and create and edit their own requirements, upload documents, share comments and transition the status of any project element. The one-click split window also provides users a hassle-free way to establish traceability between documents.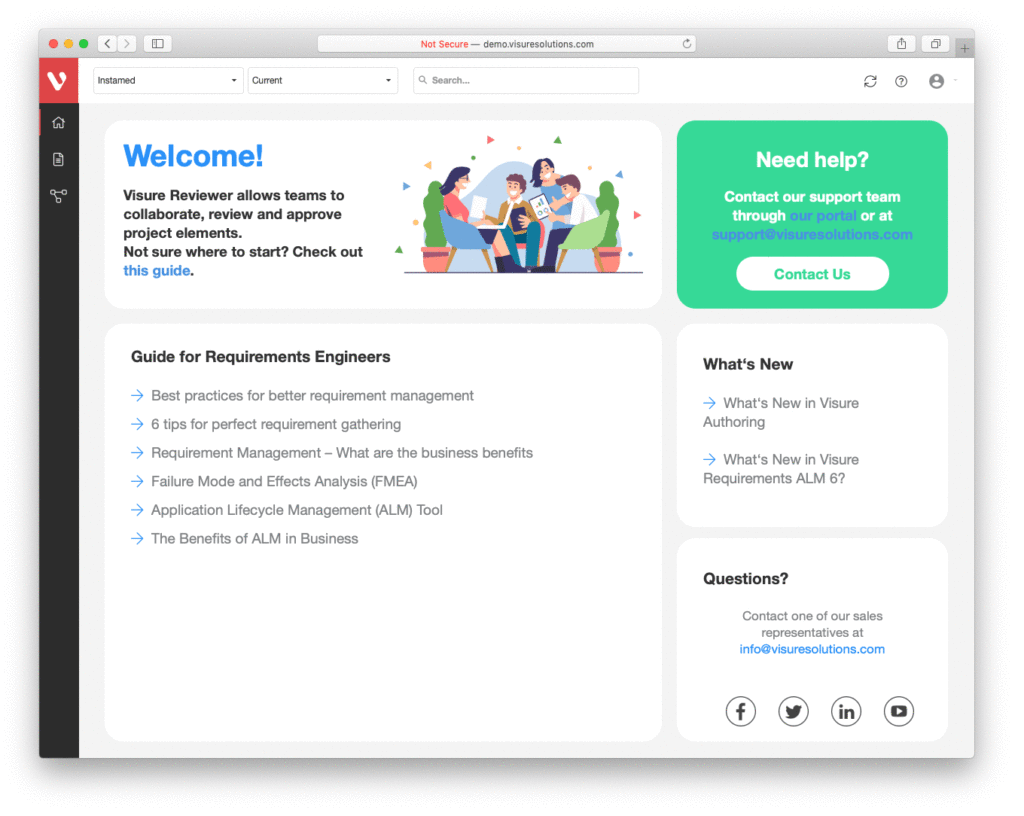 ---
Reviews: Comments, baselines and electronic signature
Visure Authoring 6 helps users involve internal and external stakeholders in the review of the project artifacts by providing an easy way to provide feedback and gather explicit approval via electronic signature of baselines.
---
Document and list view
Users will be able to choose between a document and list view to display requirements, allowing them to visualize requirements and other items in the most convenient way to achieve their goals.
---
Editing
A new simplified way of creating and editing requirements, test cases, risks and other artifacts will facilitate the authoring of specifications with the organization. A full-featured HTML description will allow customers to upload pictures, tables and any other artifact to the specifications.
---
LaTeX support
Descriptions in Visure Authoring support mathematical equations using LaTeX, enabling users to quickly formulate and build up beautiful and accessible math equations in a simple way.
---
History
Visure Authoring provides a detailed tracking and audit trail of all changes made to the artifacts in the project, giving users full control and visibility over who made what, when and why. In a couple of clicks, all this information is made available to the user.
---
Associated files
Users can easily share information with other members of the team by uploading and attaching additional relevant documents to the requirements.
---
Attributes
The verification method of a requirement, status of a test case, probability of a risk and any other attribute can be managed from Visure Authoring in a simple and easy way, in a similar way to the full feature Visure Requirements ALM platform.
---
Traceability
Users can manage the traceability between requirements, tests, risks and other artifacts of the project directly from Visure Authoring by establishing traceability through the split-screen capability, reviewing suspect links or navigating through the links.