Requirement Tracking Tool
Explore how a requirement tracking tool can benefit you and your business
What is a requirement tracking tool?
Simply put, requirements tracking tools are mechanisms that take away the guesswork from projects, replacing assumptions and ambiguity with facts and certainty. By utilizing these tools during a product's development process and making it part of an operation's daily workflow, you can make sure said product is performing exactly how it's supposed to.
Believe it or not, Microsoft Word documents and Google spreadsheets are a very basic requirement tracking tool, as they can be used to log and keep track of data. However, they can become difficult and unscalable as the tracking process of requirements is done manually and when you begin working with big number of requirements or more complicated systems. This is where more specialized, advanced tools come into play.
When using a requirements tracking tool…
You might be asking, "What type of tool do I need? How do I go about approaching this?" This is going to depend on the type of industry in which you're working and the particular goals you'd like to meet. For instance, banking software and pharmaceuticals are going to need different strategies, just as acquisition and aerospace systems aren't going to be identical. Every business has its unique challenges and objectives, which is why there are various kinds of requirement tracking tools with various functionalities.
Before going to pick out a requirement tracking tool, specifically pinpoint what you're hoping to achieve with a certain product. This can help you select a mechanism that's right for you. When using a requirement tracking tool, always be cognizant of the bottom line. Make sure you know what your optimal results are and use the tool as a means to help you get there.
A great requirement tracking tool will not only be able to serve as a reference point from which to view a certain product's build and features, but it should also be able to function as a cohesive roadmap and centralized platform allowing multiple distributed stakeholders (business analyst, marketing team, project managers, QA team, development team, testing team, customers, suppliers, contractors, etc.) work and collaborate together. This way, you can easily pull elements to highlight when speaking to stakeholders and other interested parties so they can quickly discover the key objectives, determine the for and back word links or traceability or each element and steps of a certain project.
Why tracking requirements?
It would be great if project stakeholders could automatically understand every aspect of a product and every links between all elements in project. In an ideal world, analysts who specialize in business would have a comprehensive understanding of technology as well. We would all prefer that clients come to us knowing exactly what they want and have the capacity to articulate that with no ambiguity. Unfortunately, checking off all of these boxes is not a luxury most people have the majority of the time, which is why tracking requirements are so crucial.
Not only can manually tracking requirements be tedious, but unfortunately, humans are fallible and prone to making errors. This is not only true when it comes to logging data, but it is also relevant in the building stage. Tracking requirements can improve accuracy and accountability in both of these aspects.
Tracking requirements are multifaceted and come with a number of benefits throughout every stage of product creation and operation. Because they allow you to track data more efficiently and with less hassle, problems such as;
How do we know how much of requirements have been implemented?
How do we know how much testing is enough?
What is the impact of requirements change?
Have we gathered all requirements?
How much of the product/software is represented by requirements?
How far the project is drifting from the "real" customer requirements?
How can I generate requirements traceability matrix?
How to prove full traceability of requirements to pass standard certifications?
How to stop poor quality requirements from hurt team performance? Etc.
become identifiable more quickly, which means you can focus more energy on finding a solution rather than wasting time trying to pinpoint a problem or not realizing a problem is there, which can lead to more headaches and wasted resources later down the line.
In addition, tracking requirements automatically store all of the data with which you're working, so you can use it as a reference later down the line. This can help you constantly grow and improve, leading to more seamless scaling and a better product.

Benefits of a requirement tracking tool
When discussing requirement tracking tools, the focus is usually placed on how they can help with the creation, the delivery and maintenance of a product itself. Although this is a vital part of a requirement tracking tool's function, it's far from the only perk.
As previously mentioned, requirement tracking tools can be helpful when showcasing certain results and features to outside parties. This is why visualization is a key component of a requirement tracking tool. From dashboards and storyboards to flows and simulations, requirement tracking tools can paint a vivid picture of a product and its potential. Both interaction and analysis are additional advantages.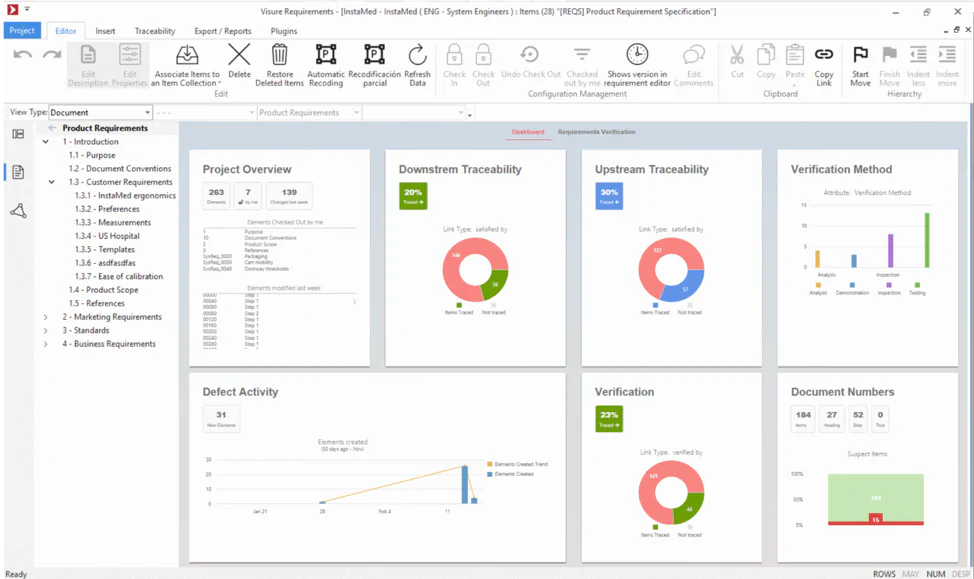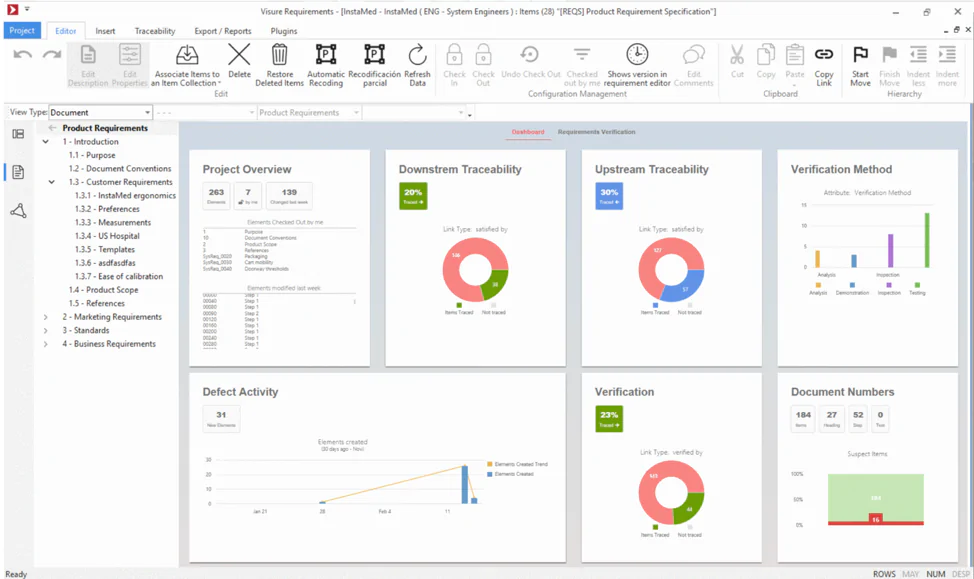 Visure's requirements tracking features
At Visure Solutions, we have one main goal: to ensure that our requirement tracking tools can be seamlessly integrated into every workflow so that it may benefit every person on the team, regardless of role. We believe that requirement tracking tools should be an asset from start to finish, which is why we've been refining and validating our technology for the past decade to support various development methodologies such as Agile, Water-fall, V-Model, hybrid, etc.
Due to this diligence, we now have an extensive list of features regardless of the industry in which you're working or the type of product with which you're dealing. When it comes to management, our tools include the ability to program an unlimited number of attributes and set various filters and views, allowing for a fully customizable and sharable experience. Convenient version comparison and rollbacks are two other key aspects offered with our technology.
Our requirements traceability features make it simple to track relationships between requirements, from high level requirement to business requirements, to system requirements, to architecture/design components, all the way down to test cases, and external information, while our products' elicitation abilities make it simple to analyze and export data—data which can be generated into a number of report types from the technology itself.
Verification and acceptance tests can help users stay on track, and intuitive, easy-to-use interfaces make navigating project management smooth and efficient. Better yet, our tools are able to integrate with dozens of other tools, including IBM-DOORS products, Jama Software Perforce Helix, Polarion ALM Software, JIRA and more.
These features lead to a more productive and dynamic workflow. Beyond simply expediting a process, our technology produces clearer execution and a more quality product. Our company's goal is to empower our clients so they can, in turn, empower theirs, leading to more personalized support and the encouragement of innovation.
---
Other related articles: