Requirements Management (RM) Tools
In the real world, clients don't always articulate their requirements as well as they should, and not every project has a business analyst who is well-versed in domain and technical knowledge. Yet, the ability to navigate business requirements strongly correlates with project success. Requirements management tools help teams accurately capture requirements from clients, prioritize them, collaborate when implementing them, report what has been done and what still needs to be done, and more. This article explains how to select a requirements management tool and lists some of the most important features any requirements management tool should have.
What Is Requirements Management?
The Project Management Institute defines requirements management as an iterative set of activities that help ensure that elicitation, documentation, refinement, and changes of requirements are adequately dealt with during a lifecycle.
A requirement is any documented physical or functional need that a product or process strives to fulfill. Since all organizations exist to provide customers a certain product or service, all organizations deal with requirements. However, some organizations have figured out how to handle requirements efficiently for the successful delivery of the best quality product or service, while others constantly struggle with them.
The difference between the two kinds of organizations is usually requirement management, which plays a critical role during the entire lifecycle and serves as a glue that holds the project together, preventing it from falling apart due to the inability to deliver the desired product or service.
Why Do I Need a Requirements Management Tool?
If there's something all project managers can agree on, it's that documenting requirements is a tedious task. And without the right tool for the job, documenting requirements is often not only tedious but also fruitless. Even the most dedicated project managers would much rather do other things than spend their time updating a gigantic Excel spreadsheet that only they can navigate—poorly at best.
"When budgets are thin, timelines are tight, and scope is creeping, requirements documentation tends to be the first deliverable to go and the last deliverable to be considered," explainsproject management expert Kelly Suter. Since requirements documentation is a blueprint for the client to better understand what to expect out of the project, it plays a critical role in maintaining a healthy relationship with the client and being able to meet the client's expectations.
Requirements management tools give organizations the edge that makes all the difference by making it much easier to track, test, visualize, analyze, and communicate requirements to stakeholders. They also leave behind an audit trail that gives a step by step documented history of the conception of individual requirements and the changes made to them over the course of the project.
Requirements management tools can be used across all industries, including information technology, healthcare, construction, banking and finance, automotive, aerospace and defense, and so on. The size of the organization doesn't matter because excellent requirements management tools are available to organizations large and small.
How to Select a Requirements Management Tool?
The most basic requirements management tool out there is a blank sheet of paper or an empty whiteboard. While there is still some room for old-school requirements management planning, digital requirements management tools have proven to be indispensable in more complex requirements management planning.
For very small projects, an Excel or Word document may do the job just fine, but such projects are quickly becoming a rare breed. Virtually all projects today can benefit from a complex requirements management tool. Such tools often integrate into the same environment support for other processes, including risk management, test management, issue and defect tracking, and change management.
When selecting a complex requirements management tool, it's important to take a closer look at the company behind the tool and find out how long it has been working on its product and how reputable it is. It makes little sense to advocate for a requirements management tool that hasn't received any support in quite a while because the company behind has moved on to other projects.
The Most Important Features of Requirements management Tools
A recommendable requirements management tool should have certain core features that allow users to define requirements and track them throughout the lifecycle, including automatic requirement gathering, requirement management, test management, change management, report generation, and risk management.
Requirement management tools feature – Import and Export:
Requirements can be captured automatically from MS Word, MS Excel, ReqIF, and other sources in a very intuitive way that saves time and reduces the likelihood of human error.
Requirement management tools feature – Change management
Requirements management tools manages changes throughout the application lifecycle, capturing, analyzing, validating, tracing, and allowing for the reuse of requirements. The screenshot below shows how intuitive requirements management in Visure Requirements is. The tool supports requirements verification by managing tests, and it makes it effortless to follow the life of a requirement through its development and specification, all the way to its subsequent deployment and use.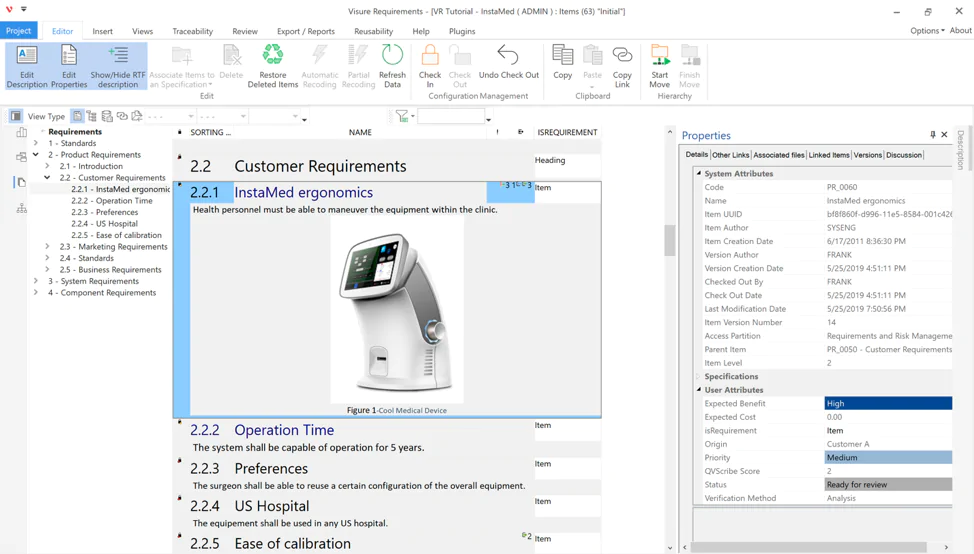 Requirement management tools feature – Requirement analysis
When it comes to requirement analysis, requirement management tools can provide various views, table or matrix to display information from the database in order to make it easy for the user to analyze it. Visure Requirements shines with its fully customizable dashboards, which give users insight into the project and include information such as the volatility, progress, or fulfillment of individual specifications.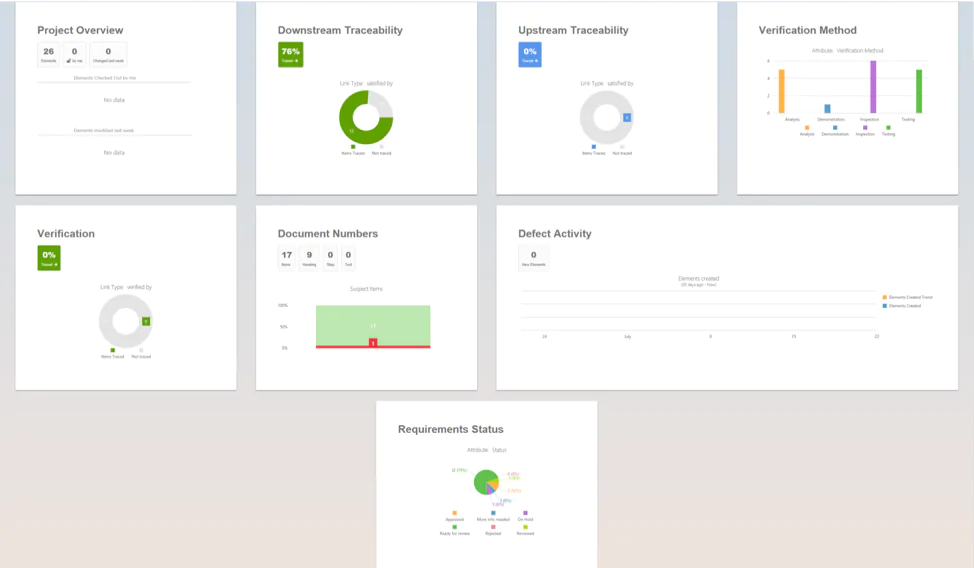 Overall, Visure Requirements in a great example of a requirements management tool that meets all the essential selection criteria and impresses with a remarkable selection of useful features that greatly simplify requirements management and significantly increase the chance of project success.
Selecting your requirement management tool
All organizations today deal with requirements management in some way or another, which is why requirements management tools are now more important than ever. In this article, we explained the benefits of using a requirements management tool and the most important selection criteria organizations should keep in mind when deciding which requirements management tool is best for them.